News Archive 16
From Betamountain.org
Go Forward to Main Page -- Go Back to News Archive 15
---
Feb 07.2018
Episode Guide Updates
| | |
| --- | --- |
| | Very quick update message. We're down to 40 or so characters to import from the old website and all of the episode material has been pulled in as of last night. You can get to the Ep Guide by dropping down Guides menu at the top and selecting Episode Guide. |
When you're there, be sure to look for any entry with a on them, there is a deeper review or re-telling. We're happy to have the Dan Fiorella re-tellings in place (The Ax, Boomtown, and Space Moby) along with the original BM1.0 screenshots.

Moving forward we have the Traash submission is the first "new" epguide entry and it has all new BM3.0 screenshots, plus we may have lined up a review or two from a guest that we located on the Internet and we'll be sure to post those up in the upcoming weeks.

Approaching Longshot
This is a 21 frame stitch to make this shot. In the series the machines, scenery, and panning shots always worked well together.
---
Jan 28.2018
---
Blender
I went down a rabbit hole last week when I couldn't sleep and I started playing with Blender3D. The first time out took me a long time to get a 3D render of the GR badge and the second time took me much less time (14 hours vs 1-2 hours). I still have a long ways to go to get to the end with a need to learn texturing and coloring. Not to mention I need to find a font (a friend of the show ("mt") has been assisting in that area).

Series staff member David Rosler has been very supportive of this work, offering some tips here and there. If I can get a decent model, I'm hoping to print one in 3D. Below are my second attempt and the reference image, while here is the Twitter conversation around the first image.
---
Series 6 Podcast
| | |
| --- | --- |
| | The guys over at Series 6 Podcast published their tenth episode. This time they reviewed the Christopher Rowley episde Traash and RD_Blade was kind enough to submit the guest review for our Episode Guide (thanks RD!) |

Makes you wonder if spaceships have insurance and how much the deductibles are.
---
Updates
| | |
| --- | --- |
| | Plodding along with the site conversion. We're starting to categorize the fanfic character appearances (Thank you Helper #1!) and that's causing the Bio pages to start populating with the appropriate links to get you to the fanfic that stars the character you are looking at. Also, character names (A-Z) are starting to populate as more characters are added and updated. Finally, as a tease, I found that I had a scan of the following which I'll upload to the site (35 pages) in the future: |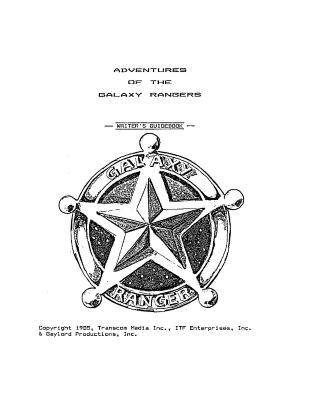 Site Conversion Progress | BM1.0 approximate size: 1000 files
---
Jan 11.2018
fatima updates About The Series
| | |
| --- | --- |
| | Back in March 2001, fatima submitted an "About the Series" article that really took a good look at the different aspects of the show. The article covers everything from the creators, to the run of the show, the unfortunate reason behind the lack of a second season, and the fans (You!). We were very happy to receive an update to the article this past week and it's now part of the Guides menu above. You can read the article here. Thank you very much fatima! |
AKK Site Update
| | |
| --- | --- |
| | AKK has one of the longest running GR sites out there. How long you ask? We have the original announcement here in the news archives from back in 2000! AKK updated her website this past month and we have to say it is looking pretty snazzy! Check out http://www.annkniggendorf.de. |
David Rosler
| | |
| --- | --- |
| | David Rosler has some new videos up on his YouTube channel. I have some listening to do this weekend as I see what looks like to be some discussions about his Orbiter movie project. I also see a Filmaking 101 for Experts video as well. |
Website Updates
| | |
| --- | --- |
| | Working through the "B" entries in the Character Guide area. Oddly enough, it was the old news posts that got me back on track for doing them in an order versus going all over the place. |
| | |
| --- | --- |
| | Added Boomtown and The Ax (both Dan Fiorella submissions) to the site. |
| | |
| --- | --- |
| | Finally, I moved the webmaster note to the bottom of the main page and added a progress bar. There's still a lot of material to go through! |
---
Dec 30.2017
Ken Landgraf on Instagram, Facebook and Ebay
| | |
| --- | --- |
| | Reconnected with series storyboard artist Ken Landgraf this month. Ken continues to draw a wide variety of subjects and genres, including some new Galaxy Ranger pieces that are up for bidding on eBay! You can find Ken and his work at the links below. |
eBay Auctions
| | |
| --- | --- |
| | As the auctions are time sensitive, I'll link to these for as long as eBay keeps them visible: |
| | |
| --- | --- |
| | As this site roles out, I will post some of Ken's previous Galaxy Ranger artwork. Thank you Ken! |
---
---
Go Forward to Main Page -- Go Back to News Archive 15
---