News Archive 16
From Betamountain.org
Go Forward to Main Page -- Go Back to News Archive 15
---
---
June 26.2018
Space Sorcerer

The Series 6 Podcast posted their 13th episode last month and their review of "Space Sorcerer" this past month. This one is a little unorthodox compared to the rest, but we get a guest host: Little Jay!


Mogul The Space Sorcerer and Larry consult the crystal ball for the whereabouts of the Galaxy Rangers. Are those eyes in the walls?
Operation Longshot

In celebration of the first year down for the podcast, RabbiBob delivered "#OperationLongshot" from the Twitters (I'll post more on that later) to RD & Jay and we look forward to everyone getting an earful from fans and a guest star contributor or two! Someone even baked a cake for it!!
Anniversary #19

For the long time followers of the site, today marks year #19 (not of the site, that's a little later on this year, but something else very dear to me)!
---
---
April 29. 2018
Crunch Month

Took some time off this month as April is usually "Crunch Month" and it was a refreshing break. I have a final next Thursday so I'm not entirely in the clear right now, but the finish line is near. A little digital-detox never hurts anyone.
Space Adventure Cobra

If you watch the Robert Mandell bonus clip included on the GR DVD set, you'll hear about some of Mr. Mandell's projects and influences. I started re-watching Thunderbirds 2086 and though I remembered parts of it, it sits at the edge of my non-mainstream cartoon history as I was roughly 10 when it aired. I figured it might be good to stop and back track a little into a show that Mandell cited as a major influence: Space Adventure Cobra.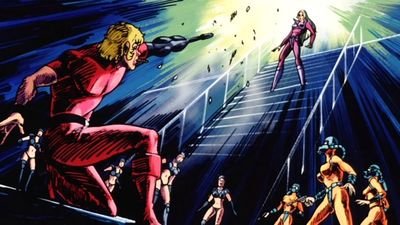 | | |
| --- | --- |
| | Before you sit down with the kids to watch this one, be aware that by episode four you'll get your first view of breasts and that Cobra's main weapon tends to go right through whatever it is shot at. If you are aware of the movie Barbarella, be prepared for the same female clad (or unclad) costumes. |
| | |
| --- | --- |
| | Cobra, where had you been hiding all my life? Or did one of the Becker brothers try to clue me in back in the early 2000's? |
| | |
| --- | --- |
| | I'm not going to go into a description of the show or why it might look familiar in some scenes, if you want that go read Space Adventure Cobra Offers a Dazzlingly Strange Final Frontier by Mike Dent. What I will say here is that over a handful episodes you can see a few character archetypes that are eerily familiar. From the back-alley information giver in "One Million Emotions" to a moment of holy crap is that Darkstar? No.. wait, that's a mask. Subtle things here and there. The left arm of the protaganist being a weapon and the word "psycho" in the weapon title? Subtle things. |
Space Adventure Cobra, at least the 1980's version that I'm up to episode 16 in, is a fun watch. Very tongue in cheek and if you're watching the subtitled version then you're getting all the awesomeness of the original voice actor: the vocal effects of Nachi Nozawa while dodging shots fired is hilarious. Villains like Crystal Boy (Bowie?) are just... villainous and ruthless. While the majority of GR stories are self-contained, Cobra maintains a two-three episode story arc approach that allows for some time to develop a villain along a single plot point. This not only grabs you for the "what happens next" element like we get in Gift of Life and Sundancer, but hooks you in a little deeper than the "in and out in 23 minutes approach" because things are fleshed out a bit more.


Of course, there is only one Lady Armaroid.
I didn't even mention that this is a TMS Entertainment (Tokyo Movie Shinsha) product, so there is the house that your families all grew up in.

A few episodes appear to be over on CrunchyRoll and I found the 1980's series by way of Nozomient's playlist over on the YouTubes.
Things to check out

Manga

1980s Anime

2000s Anime
---
Mar 31.2018
Brad Fox Art

We teased last month that we had received a few pieces of artwork from the show pre-production phase and the first piece is up!
We were able to match it up with the animation frame from the series and present it along with the art. Check it out here and we send a big thank you to Brad and our friend of the show!

---
Phoenix Review

We were visited by M.T. Bochs earlier this month and he has produced two Episode Guide entries for Betamountain, the first of which is the entry for "Phoenix". A long time Bionic Six fan, M.T. has been writing on his Outside of the Box blog on various topics for quite some time. He's also recently learned the ancient art of the animated .gif and no cool scene is safe! Next month: "New Frontier"
Happy Birthday Dan

Happy (now completely belated) Birthday to Dan Fiorella! RabbiBob picked up Novel Concept during Dan's celebration and has been reading it happily over morning coffee. Whether or not the elusive Chapter 9.5 concerning the puma ever materializes may mean the end of humanity, or maybe just decency.
Mindnet

The Series 6 Podcast reviewed "Mindnet" this month and you can check that out on their site, iTunes, or your favorite podcast catcher of choice.
Site and More

As a nod to one of their running jokes on alternate character names, we added the Series 6 Podcast Translator link to the menu above and we'll try our best to provide an ongoing Lucky Charms Decoder for their name shenanigans!
| | |
| --- | --- |
| | For site work, the Episode Guide landing page received a complete overhaul. After reviewing past content, the GRCDs, and Wikipedia's listing, it became very apparent that the content had a common origin, word for word in some cases, and we picked from each source to update the listing here. |
The Character Guide template was edited so that only items that had values were reflected in the final viewing output. This allows for a much cleaner page, less clutter, and the ability to add items in that doesn't cause general havoc on all of the existing entries. For example, as a test on Zachary Foxx's page, we added the Voice Actor and First Appearance values and from editing perspective, we only need to add two lines on any existing character entry to populate it across the board.

The Talk Page for episodes will become the notes page where the items in the ep get listed and eventually filled in. This includes characters, locations, ships, tech, etc. This will help determine what appears where first, what needs to be added and updated. You can see this for Phoenix and you can see where a page like hyperdredge got its start.
| | |
| --- | --- |
| | Speaking of morning coffee, go get some and then sit down to peruse Marienro2's Galaxy Rangers Pinterest Board. We don't think there is anyone that rivals her ability to find Galaxy Rangers items on the Internet and lucky for us, she puts them in one place for viewing. As always, good eye! |
| | |
| --- | --- |
| | ...and More: |
March was an interesting month. Had a quick exchange with a few of the series creators, two from way back in the early 2000's and a new one! On the home front, we took a few major snowstorms on and during that, we wrapped up our sixth annual maple syrup production year and we had the largest output of syrup ever for the household. It's small scale, but even the sugar shacks in the area raise an eyebrow at how much we get out of our trees, especially given that we live "in-town." It's an involved process and takes a lot of time, money and effort, but the results are great and I hope its something the kids take along with them when they grow up.

It's all about the kids, right?

And the fun.

Always remember to keep it fun.
---
Feb 26.2018
New Series 6 Podcast Ep
| | |
| --- | --- |
| | The Series 6 Podcast posted episode 11 this weekend and in it Jay, RD, and guest host Ninja Dave review the late Brian Daley written episode Mindnet. Get it and subscription information here |
Mindnet Guest Review
| | |
| --- | --- |
| | Last month we found the "Pretty, Fizzy Paradise" Blog writtn by Kalinara and after finding well written reviews for over half of the series episodes that fit our sense of humor for the show, we figured they were a perfect fit. You'll find Kalinara's review for Mindnet here and links to the rest of the reviews on PFP. Thank you Kalinara! |

Which one of you has the assembly instructions?
Artwork Teases
| | |
| --- | --- |
| | We've received a pre-production pieces of art work by way of a friend of the show and of Brad Fox that will be popping up soon. We're working on pairing the art with the in-show final work and are excited to put that up soon. |
---
Feb 07.2018
Episode Guide Updates
| | |
| --- | --- |
| | Very quick update message. We're down to 40 or so characters to import from the old website and all of the episode material has been pulled in as of last night. You can get to the Ep Guide by dropping down Guides menu at the top and selecting Episode Guide. |
When you're there, be sure to look for any entry with a on them, there is a deeper review or re-telling. We're happy to have the Dan Fiorella re-tellings in place (The Ax, Boomtown, and Space Moby) along with the original BM1.0 screenshots.

Moving forward we have the Traash submission is the first "new" epguide entry and it has all new BM3.0 screenshots, plus we may have lined up a review or two from a guest that we located on the Internet and we'll be sure to post those up in the upcoming weeks.

Approaching Longshot
This is a 21 frame stitch to make this shot. In the series the machines, scenery, and panning shots always worked well together.
---
Jan 28.2018
---
Blender
I went down a rabbit hole last week when I couldn't sleep and I started playing with Blender3D. The first time out took me a long time to get a 3D render of the GR badge and the second time took me much less time (14 hours vs 1-2 hours). I still have a long ways to go to get to the end with a need to learn texturing and coloring. Not to mention I need to find a font (a friend of the show ("mt") has been assisting in that area).

Series staff member David Rosler has been very supportive of this work, offering some tips here and there. If I can get a decent model, I'm hoping to print one in 3D. Below are my second attempt and the reference image, while here is the Twitter conversation around the first image.
---
Series 6 Podcast
| | |
| --- | --- |
| | The guys over at Series 6 Podcast published their tenth episode. This time they reviewed the Christopher Rowley episde Traash and RD_Blade was kind enough to submit the guest review for our Episode Guide (thanks RD!) |

Makes you wonder if spaceships have insurance and how much the deductibles are.
---
Updates
| | |
| --- | --- |
| | Plodding along with the site conversion. We're starting to categorize the fanfic character appearances (Thank you Helper #1!) and that's causing the Bio pages to start populating with the appropriate links to get you to the fanfic that stars the character you are looking at. Also, character names (A-Z) are starting to populate as more characters are added and updated. Finally, as a tease, I found that I had a scan of the following which I'll upload to the site (35 pages) in the future: |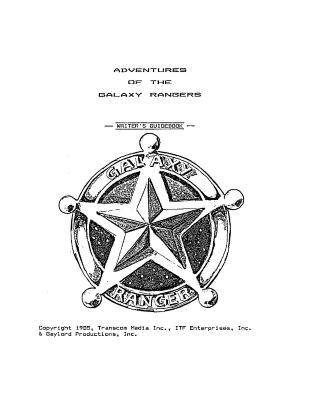 Site Conversion Progress | BM1.0 approximate size: 1000 files
---
Jan 11.2018
fatima updates About The Series
| | |
| --- | --- |
| | Back in March 2001, fatima submitted an "About the Series" article that really took a good look at the different aspects of the show. The article covers everything from the creators, to the run of the show, the unfortunate reason behind the lack of a second season, and the fans (You!). We were very happy to receive an update to the article this past week and it's now part of the Guides menu above. You can read the article here. Thank you very much fatima! |
AKK Site Update
| | |
| --- | --- |
| | AKK has one of the longest running GR sites out there. How long you ask? We have the original announcement here in the news archives from back in 2000! AKK updated her website this past month and we have to say it is looking pretty snazzy! Check out http://www.annkniggendorf.de. |
David Rosler
| | |
| --- | --- |
| | David Rosler has some new videos up on his YouTube channel. I have some listening to do this weekend as I see what looks like to be some discussions about his Orbiter movie project. I also see a Filmaking 101 for Experts video as well. |
Website Updates
| | |
| --- | --- |
| | Working through the "B" entries in the Character Guide area. Oddly enough, it was the old news posts that got me back on track for doing them in an order versus going all over the place. |
| | |
| --- | --- |
| | Added Boomtown and The Ax (both Dan Fiorella submissions) to the site. |
| | |
| --- | --- |
| | Finally, I moved the webmaster note to the bottom of the main page and added a progress bar. There's still a lot of material to go through! |
---
Dec 30.2017
Ken Landgraf on Instagram, Facebook and Ebay
| | |
| --- | --- |
| | Reconnected with series storyboard artist Ken Landgraf this month. Ken continues to draw a wide variety of subjects and genres, including some new Galaxy Ranger pieces that are up for bidding on eBay! You can find Ken and his work at the links below. |
eBay Auctions
| | |
| --- | --- |
| | As the auctions are time sensitive, I'll link to these for as long as eBay keeps them visible: |
| | |
| --- | --- |
| | As this site roles out, I will post some of Ken's previous Galaxy Ranger artwork. Thank you Ken! |
---
---
Go Forward to Main Page -- Go Back to News Archive 15
---