Traash
From Betamountain.org
See Also:
---
Traash
as reviewed by RD and Jay via the Series 6 Podcast
Originally aired 10/2/1986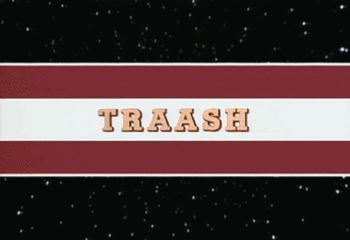 ---
This time around, we'll be reviewing… the 10th episode, titled "Traash". This episode aired on October 2nd, 1986. It was written by Christopher Rowley. Chris Rowley wrote 8 episodes and co-wrote 1 with Robert Mandell, the show's creator. I wanna note that he wrote episode 3 "Tortuna" because we reviewed that episode before we started mentioning writers and air dates. This was the episode with the "Stogres". Remember them? And that episode featured Goose kicking every ass he encountered.

Also, I should mention that Rabbi Bob actually met Chris Rowley in person. They hung out. I think they got matching tattoos as well. I can't prove that last part.

Note: This can neither be confirmed nor denied due to privacy and decency laws throughout the League of Planets - RabbiBob (talk).

Anyway…let's get this review going.

And it's starting…now.
---

The one tool every respectable outlaw pirate has is a HyperDredge
---
| | |
| --- | --- |
| | It starts off in space, the exterior of a familiar ship. It's Captain Kidd's ship! His communications officer, the Voltron red-shirt wearing headphones, tells him they've caught something in the "Hyper-Dredge"? I assume that's the space-net that can pull ships out of hyper-space. They used it in episode one to spacejack the Phoenix. Kidd says to reel it in and his little guy (whose name is Squeegee, FYI) says one word that's synonymous with Kidd's favorite hobby. "Booty!" |
When they reel it in, they don't recognize what kind of ship it is, but aren't concerned because of its small size. It's no threat to them. Kidd says to check the ship directory.

They have a ship directory?!? I want one of those!

"Uh-oh", says RedShirt. "It's a Traash fighter!"
Captain Kidd immediately loses 15 pounds. Because he craps his pants. Actually, most people don't know this, but Captain Kidd's first name is BrownPants. Amazing, right?

He orders RedShirt to get rid of the ship and send it back into hyper-space.
But it's too late. As BrownPants' ship flees, a Traash invasion fleet emerges from hyper-space. These guys travel deep! There's a ton of them…and they're all shooting at BrownPants' ship. Kidd drops a bunch of mines and launches into hyper-space. One of the mines hits a Traash fighter. The resulting explosion tags Kidd's ship. Redshirt says their nav system is damaged and he's not sure where they're headed. He thinks human space.

BrownPants is happy to hear that. Probably because humans are always forgiving him when he doesn't deserve it. (Captain Kidd is generally a duplicitous prick. Remember, he sold Zach's wife…which I think started Zach down the path of douchey-ness.)
| | |
| --- | --- |
| | So they come out of hyperspace and immediately see a huge cruiser in front of them. We'll come to learn that the cruiser is called "The Comanche". |
Kidd's ship has bad brakes and ends up with its nose buried in the side of the Comanche.

Rabbi Bob gave us a stitched image of that. Beautiful TMS artwork. But it looks really funny.

Meanwhile, on the inside, the cruiser's Commander is flipping out. "What the…?!? THOSE FOOLS RAMMED MY SHIP!!" He's got on brown pants (like Kidd wishes he had), a huge pair of Cool Moe Dee sunglasses, but those aren't even his most prominent features.

Holy hell, the mustache on this guy! It looks like a pair of jump ropes arcing from his nostrils to his temples! I think this guy was Commander Walsh's mentor. You know… Walsh was still green. And this dude with a magnificent face-broom took Walsh under his wing and showed him the ropes. And how to step up his mustache game. Taught him to never over-trim. Like: better to leave your flavor-saver overly thick… than all patchy and whatnot. And he also showed him the ancient art-form known as proper mustache wax application.
Anyways, the Southern bell tells Commander Double-Dutch …it's a small transport called the Iron Falcon and they've got a fire emergency and are requesting assistance. Double-Dutch recognizes the Iron Falcon as Captain Kidd's ship. He asks the Southern Bell what the hell they're doing in human space. But it seems to be a rhetorical question. I'm gonna answer it anyway.

This is just speculation, but I think Kidd was given a conditional pardon. Like "You saved our asses from the mess that you caused, so we're letting you go. But…if we see you or your little monkey /slash/ girlfriend again, you're going to the Death Star. Where you'll be the main attraction at all the toga parties! They'll have you grabbing belt loops at random."

So Kidd comes on the comm screen. Double-Dutch takes a page from Zachary's book and threatens to arrest Kidd.

Kidd says, Screw every word you just said. The Traash are coming!
| | |
| --- | --- |
| | The Traash? Neither Double-Dutch nor the Southern Bell know what he's talking about. "Ah've no ahdeah.", she says. He says to get Kidd up there. Then Kidd tells him what's what about the Traash. That the Queen is even afraid to engage them. And that they're an insect-like race. MORE BUGS!!! Kidd says they eliminate all life wherever they go… And then they show up! |
| | |
| --- | --- |
| | Double Dutch orders everybody to battlestations. One thousand Traash fighters converge on the cruiser. Its turrets aren't enough to fight them off. Things look dire. |